Delving deeper into director Wang's thoughts
Believing that creative freedom is an essential quality of all filmmaking, Shaudi Wang argues that filmmakers should be more attracted to Taiwan than China
By Jeff Lin
The China Post
Plastered over almost every television talk show, the faces of director Shaudi Wang (王小棣) and the stars of the highly anticipated"Fantôme, où es-tu?" (酷馬) have been hard to miss in the last few weeks.
On their promoting crusade across Taiwan,the actors of the film have been garnering rave reviews from movie critics and moviegoers. Despite debuting on the big screen, Jin Zheng (鄭靚歆), Ku Ming-shen (古名伸) and Huang Yuan (黃遠) all give performances comparable to seasoned professionals. Yet, the cast has credited veteran filmmaker Wang Shaudi's coaching as the basis for their tear-jerking and thoughtfulacting.
For the last thirty years, Wang has been a dedicated artist and mentor to those in the television and film industry. Through this time, she has developed a keen perspective of the artistic value of the entertainment business in Taiwan.
In recent years, Wang has received prestigious awards for directing and writing television
dramas. However, television has never given her the open forum of creativeness that film can provide.
"Every art form has an essential nature.
Television has always been a medium for social communication, so when I create something for television I try to focus on that. I believe that the most important essence in films is the freedom of expression and innovation," Wang told The China Post.
Wang's ideals were clearly exemplified during the making of "Fantôme, où es-tu?" Using a true story as the basis of the film, Wang and her writer were free to adapt the story in an imaginative and exciting way. "In adapting the piece, we had to add fictional aspects ... and because I really enjoy the genre of magical realism, we were able to be creative with the script," she said.
---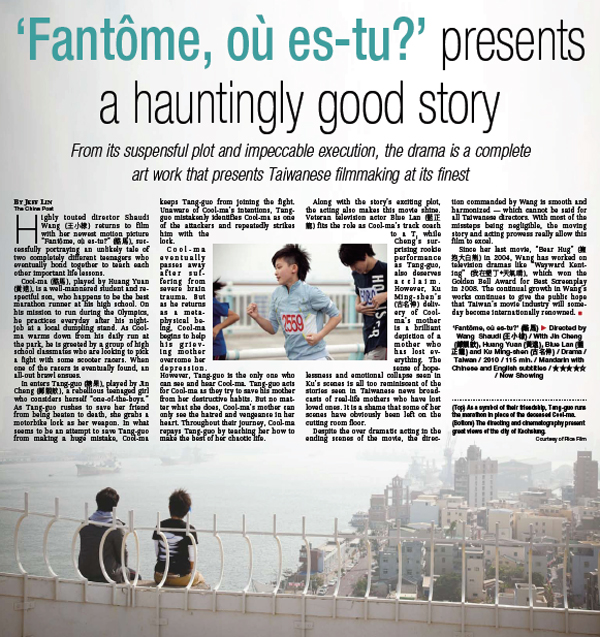 'Fantôme, où es-tu?' presents a hauntingly good story
From its suspensful plot and impeccable execution, the drama is a complete
art work that presents Taiwanese filmmaking at its finest
By Jeff Lin
The China Post Highly touted director ShaudiWang (王小棣) returns to film with her newest motion picture"Fantôme, où es-tu?" (酷馬), successfully portraying an unlikely tale of two completely different teenagers who eventually bond together to teach each other important life lessons.
Cool-ma (酷馬), played by Huang Yuan (黃遠), is a well-mannered student and respectful son, who happens to be the best marathon runner at his high school. On his mission to run during the Olympics,he practices everyday after his nightjob at a local dumpling stand. As Coolma warms down from his daily run at the park, he is greeted by a group of high school classmates who are looking to pick a fight with some scooter racers. When one of the racers is eventually found, an all-out brawl ensues.
In enters Tang-guo (糖果), played by Jin Cheng (鄭靚歆), a rebellious teenaged girl who considers herself "one-of-the-boys."As Tang-guo rushes to save her friend
from being beaten to death, she grabs a motorbike lock as her weapon. In what seems to be an attempt to save Tang-guo from making a huge mistake, Cool-ma keeps Tang-guo from joining the fight. Unaware of Cool-ma's intentions, Tangguo mistakenly identifies Cool-ma as one of the attackers and repeatedly strikes him with the lock.
C o o l - m a e v e n t u a l l y passes away a f t e r s u f -fer ing f rom
severe brain trauma. But as he returns as a metaphysical being,Cool-ma begins to helph i s g r i e v -ing mother overcome her d e p r e s s i o n .
However, Tang-guo is the only one who can see and hear Cool-ma. Tang-guo acts for Cool-ma as they try to save his mother from her destructive habits. But no matter what she does, Cool-ma's mother can only see the hatred and vengeance in her heart. Throughout their journey, Cool-ma repays Tang-guo by teaching her how to make the best of her chaotic life.
Along with the story's exciting plot, the acting also makes this movie shine.
Veteran television actor Blue Lan (藍正龍) fits the role as Cool-ma's track coachto a T, while Cheng's surprising rookie performance as Tang-guo,also deserves a c c l a i m .
However, Ku Ming- shen' s(古名伸) delivery of Coolma's motheris a brilliant depiction of a mother who has lost everything.
The sense of hopelessness and emotional collapse seen in Ku's scenes is all too reminiscent of the stories seen in Taiwanese news broadcasts of real-life mothers who have lost loved ones. It is a shame that some of her scenes have obviously been left on the cutting room floor.Despite the over dramatic acting in the ending scenes of the movie, the direction commanded by Wang is smooth and harmonized — which cannot be said for all Taiwanese directors. With most of the missteps being negligible, the moving story and acting prowess really allow this film to excel.
Since her last movie, "Bear Hug" (擁抱大白熊) in 2004, Wang has worked on television dramas like "Wayward Kenting"
(我在墾丁*天氣晴), which won the Golden Bell Award for Best Screenplay in 2008. The continual growth in Wang's works continues to give the public hope that Taiwan's movie industry will someday become internationally renowned. ■
'Fantôme, où es-tu?' (酷馬) ► Directed by Wang Shaudi (王小棣) / With Jin Cheng (鄭靚歆), Huang Yuan (黃遠), Blue Lan (藍正龍) and Ku Ming-shen (古名伸) / Drama /Taiwan / 2010 / 115 min. / Mandarin with Chinese and English subtitles / ★★★★☆/ Now Showing
---
However, the supernatural element in the movie is not just a gimmick to cover imperfections in the story. Wang's film has a meaningful message to send to its audience.
"In Chinese society, if a guy holds a low position in society, his wife is even lower. So I wanted this film to pay respect to mothers and show them that their strength is immense,"the director remarked.
Young people should not be turned away because of this message. In fact the movie is filled with youthful themes. Centering around the two teenagers Cool-ma (酷馬) and Tang-guo (糖果), the plot also follows how two teenagers can find friendship in the face of difficult times.
When observing the overall entertainment business in Asia, Wang has also used her knowledgeable perspective to analyze the state of Taiwan's moviemaking sector.
While the market for Taiwan's films has been developing very quickly it is still extremely small compared to the behemoth industries in Hollywood and Mainland China.
Even though other directors and talent might choose to move overseas, Wang still insists that the Taiwanese market is very important because it symbolizes an open exchange of ideals. In China, censorship on subjects like ghosts has restricted "Fantôme, où es-tu?" from being shown.
"Everyone believes that China is the place to go because the big money is there… but from a cultural stand point, I think it should be the other way around," she stressed. Believing that creative freedom is an essential quality of all filmmaking, Wang argues that filmmakers should be more attracted to Taiwan than China.
"We [Taiwanese filmmakers] have already gone through the period of very businessorientated films that hold little aesthetic value, and we also have gone through a period of very personal and artistic films as well. Now, I think we are going through a new period where there will be alternatives from the past two extremes," she noted.
Wang's ability to shape the film medium to communicate social values has established herself as a creative mind who is driven by something deeper than material wealth. The recent media coverage surrounding this film is not merely just hype, critics and those in the entertainment circle truly believe this film has significance to the Taiwanese public. ■